MPBK031 Allastila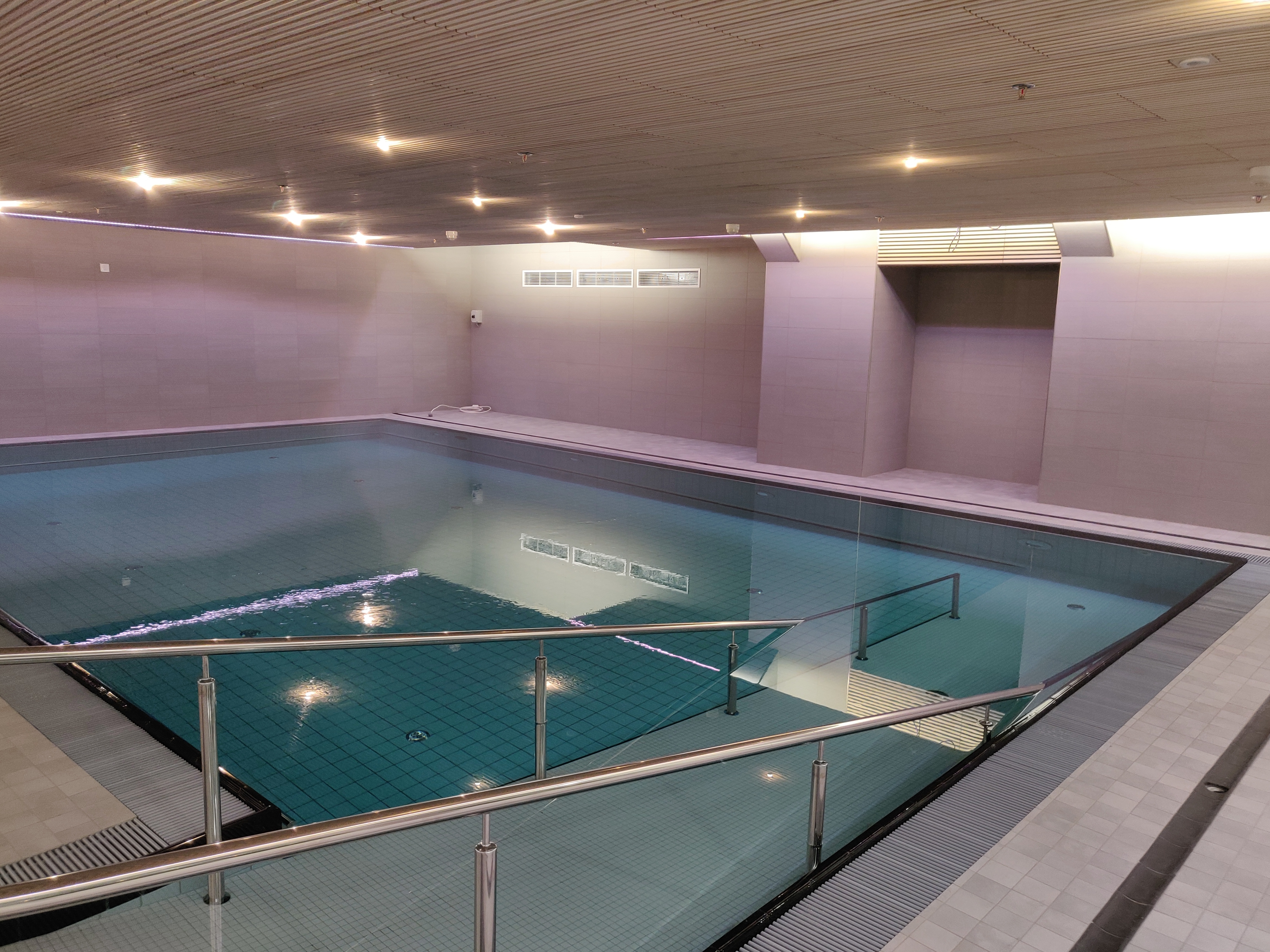 Opetuskäyttöön tarkoitettu vesiterapia-allas. Sopii noin 12 hengen ryhmille. Altaan veden lämpötila on 30°C astetta. Altaseen vie pyörätuoliliuska. Mitat: 10m x 7m, Syvyys 1,30m - 1,70m. Altaan valaistus on säädettävissä päälle ja melkein kokonaan pois. Lisäksi on mahdollisuus asettaa värillinen tunnelmavalaistus neon pinkin ja syvän sinisen välillä. Hyppiminen altaaseen on ehdottomasti kielletty. Allastilan varaamalla varaat myös altaan yhteydessä olevat pukuhuone-, pesu- ja saunatilat. Mikäli tarvitset apua saunojen kiukaan käytössä tai terapia-altaan suojan kanssa voit olla yhteydessä kampuksen aulapalveluihin. Varaus tulee tehdä ajoissa, ainakin viikkoa aikaisemmin, jotta sauna saadaan ajastettua oikein. Muista aina peseytyä huolellisesti ja kastella tai pestä myös hiukset ennen altaalle menoa. Suosi uimalakkia tai sido pitkät hiukset kiinni. Mitä puhtaampana menet altaaseen, sitä vähemmän vettä ja kemikaaleja kuluu tilojen ja veden puhtaana pitämiseen.
Voit antaa palautetta tilasta osoitteessa
https://metropolia.fi/p/MPBK031
Ominaisuudet ja välineet:
Wi-Fi
Therapy Pool
Hydrotherapy pool intended for educational use. Suitable for groups of about 12 people. The water temperature in the pool is 30°C. A wheelchair ramp leads to the pool. Dimensions: 10m x 7m, Depth 1.30m - 1.70m. The pool lighting can be turned on and off almost completely. There is also the option to set colored mood lighting between neon pink and deep blue. Jumping into the pool is strictly prohibited. By reserving the pool area, you also reserve the locker room, washroom and sauna facilities connected to the pool. If you need help using the sauna heater or with the protection of the therapy pool, you can contact the campus lobby services. The reservation must be made in time, at least a week before, so that the sauna can be timed correctly. Always remember to wash thoroughly and wet or wash your hair before going to the pool. Prefer a swimming cap or tie your long hair back. The cleaner you go to the pool, the less water and chemicals are used to keep the facilities and water clean. (machine translation)
Use the following link to give feedback about space
https://metropolia.fi/p/MPBK031
Features and equipment:
Wi-Fi
Tarkista luokkakohtaiset tietokoneohjelmat taulukosta: Digitilojen ohjelmat / Software in digital workspaces, Myllypuro
Tilatyyppi:
Liikuntatila

Paikkamäärä:
17

Pinta-ala:
144.50m2

Sijainti:
Metropolia Ammattikorkeakoulu
Myllypurontie 1, 00920 Helsinki ↗️
B-talo
K .krs


Kalenteri - Calendar
Tila on vuokrattavissa
69 € / h (alv. 0%)
552 € / päivä (alv. 0%)

Kysy lisää:
tilavuokraus@metropolia.fi


Tila on henkilökunnan varattavissa varausjärjestelmän ↗️ tai puhelimella Tuudo-sovelluksen ↗️ kautta. Skannaa qr-koodi puhelimella alta ja varaa. Jos selaat puhelimalla voit painaa qr-koodia.
Space can be reserved by staff members via reservation calendar ↗️ or by phone using Tuudo-app ↗️. Scan the qr code with your phone below and reserve. If you are browsing on your phone, you can press the qr code.
#trackbackRdf ($trackbackUtils.getContentIdentifier($page) $page.title $trackbackUtils.getPingUrl($page))
You must log in to comment.