PaperCut - Confirm the Number of Pages to Print
The Metropolia printing systems checks the number of pages to be printed. This is meant to prevent the printing of wrong Excel spreadsheets etc.
The user is asked to confirm that the print job is correct. We recommend that you check the number of pages in the print job.
When the number of pages exceeds 100, the user is asked to confirm the print job.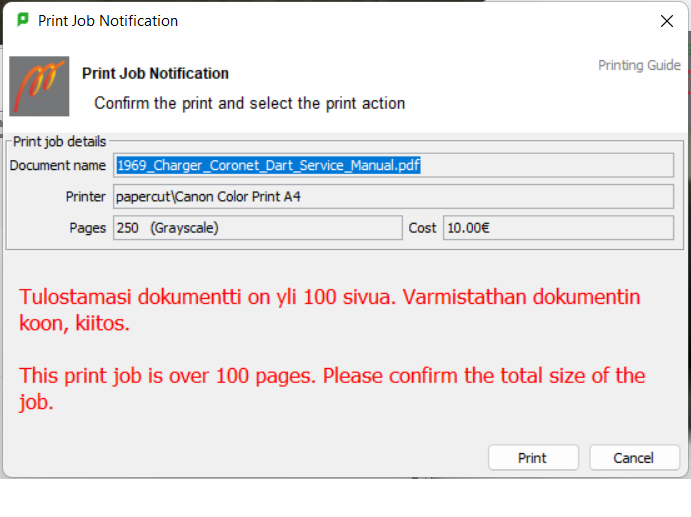 When the number of pages exceeds 50 on network printers, the user is asked the confirm the print job.
If an Excel spreadsheet of just a few pages results in a print job of hundreds of pages, you should cancel the print job and check the document.
In the picture above, the number of pages is circled in green. If the number is correct, select Print. The print job is then created in the print queue.
If you need help
To protect users and their print jobs we have set the multifunction printers so that print jobs are deleted from the queue if there is a malfunction at the printer.
The running out of paper or ink or other such supply is also considered a malfunction here.
If you run into a problem with printing, please make a service request.
#trackbackRdf ($trackbackUtils.getContentIdentifier($page) $page.title $trackbackUtils.getPingUrl($page))
You must log in to comment.