PaperCut - Client Software
What is it?
With the PaperCut Client software you can check your balance from your workstation. You can use the balance for printing and copying. The copy fee chart is here.
How do I use it?
The program starts automatically at logon. The icon next to the clock shows that it is running.

Open the client software by clicking on the icon.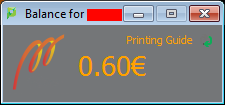 The client software shows the logged on user's current balance. For more information log in at https://print.metropolia.fi.
#trackbackRdf ($trackbackUtils.getContentIdentifier($page) $page.title $trackbackUtils.getPingUrl($page))
You must log in to comment.