IFTTT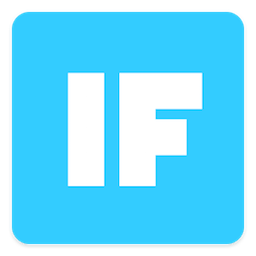 IFTT on selainpohjainen sovellus, joka automatisoi tiedonhallinnan rutiineja, joihin kuuluu esimerkiksi tietojen siirto palvelusta toiseen. Sen käyttäjä valitsee tai kirjoittaa sovellukseen sovelmia eli appletteja, jotka määräävät, mitä tiedolle tehdään. Välineen nimi tulee toimintaperiaatetta kuvaavasta iskulauseesta "if this, then that".
Sovelmia voivat olla esimerkiksi:
tallenna

Instagram

-kuvani

Dropboxiin

lähetä

Facebook

-sivun tilapäivityksestä nootti sähköpostilla

lähetä tekstiviesti, jos Googlen osakkeen arvo putoaa alle 100 euron
IFTTT julkaisi keväällä 2015 kolme uutta lisätoimintoa:
Do Button: laukaisee tietyn toiminnan 
Do Camera: lataa valokuvan automaattisesti johonkin sosiaalisen median palveluun (Facebook, Twitter ym.) 
Do Notes:  lataa muistiinmerkinnän automaattisesti johonkin sosiaalisen median palveluun
IFTTT-palvelun on perustanut ohjelmoija Linden Tibbets vuonna 2010. Yhtiön toimisto sijaitsee San Franciscossa. 
Osoite - Address
Kirjallisuutta - Literature
Videoita - Videos
Käyttöehdot - Terms of Service
Sovellus on Metropolian ulkopuolinen tietojärjestelmä.
Käyttäjän on luotava palvelussa oma tunnus itselleen.
Käyttäjä vastaa itse tietoturvasta ja käyttäjätuesta.  
---
The application is an external information system.
User has to create an own account in the service.
The user is liable for the information security and user support by himself or herself.  
Skip to end of metadata
Go to start of metadata
You must log in to comment.