Wireless Solutions, Apple OSX Computers
If you cannot connect to metropolia-student network, try the following:

Click on Apple menu > System preferences..., look for the Network icon and click to open it.

In the network connections list, select Wi-Fi and click on the Advanced... button in the bottom right: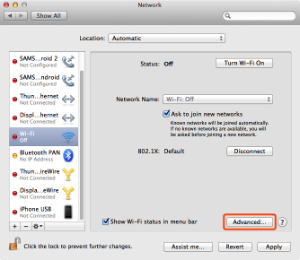 In the Preferred Networks list, select metropolia-student and remove it by clicking on the minus sign button in the bottom left: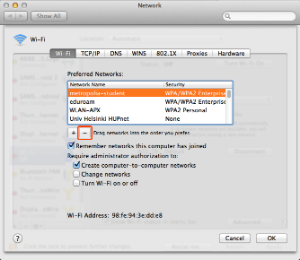 When the network has disappeared from the list, click on OK.

Next, click on the Apply button in the bottom right of the Network window: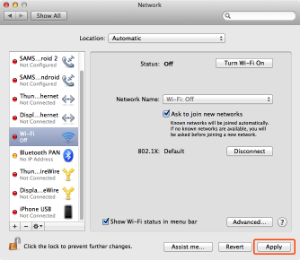 Turn off wireless network using the fan button in the upper menu bar:





Next, we will remove the certificate used by the metropolia-student network.

Start the program /Applications/Utilities/Keychain Access.app.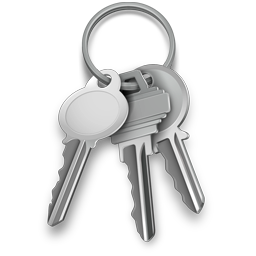 Click on login in the upper left of the Keychain Access window: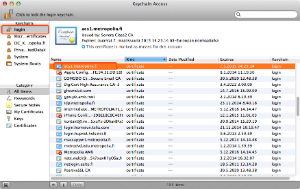 Towards the bottom of the window, look for acs1.metropolia.fi.

Left-click on acs1.metropolia.fi (or ctrl+click) and in the pop-up menu select Delete "acs1.metropolia.fi".




Confirm the deletion of the certificate by clicking on Delete: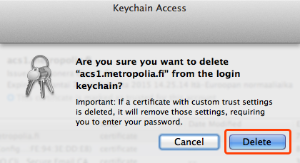 Turn on the wireless network using the fan icon in the upper menu bar:





Reconnect to metropolia-student following the instructions here:
metropolia-student Apple Macbook<https://tietohallinto.metropolia.fi/display/tietohallinto/metropolia-student+Apple+Macbook>
Skip to end of metadata
Go to start of metadata
You must log in to comment.