Office Installation on a Mac Computer
Preliminaries
Cloud service rules
Before downloading the Office package, students and staff members must accept Metropolia cloud service rules.
You can sign in to the download page in about two hours after accepting the cloud service rules.
Notice: students, who first activated their user ID in 2023, also accepted cloud service rules when activating their user IDs. Old students, who first activated their user IDs in 2022 or earlier, must accept cloud service rules separately. Cf. Cloud services information page.
Office for Mac requirements
IMPORTANT: When you start the Office installation and activation make sure that your computer's internet connection is working!
The latest Office (for Mac) works on only on Mac computers that are running the the operating system version macOS 11 (Big Sur) or newer.
If your computer is running an older operating system, you may be able to download and install the latest macOS operating system  from AppStore for free.
You can install a newer operating system from AppStore only, if the computer is in your own maintenance. The macOS installation from AppStore is not possible on computers that are maintained by Metropolia.
Microsoft no longer supports older Office versions but you can download an older version if the operating system on you Mac computer cannot be upgraded to a newer version.
The Office installation requires a user account and password with administrator permissions. Your user account or some other account on the computer may have administrator permissions.
Signing in to the Office download portal
Notice! Use these instructions to install Office on your home computer.
Do not install Office with these instructions on computer that is maintained by Metropolia.
Metropolia computers already have an Office package. Installing another Office package on the same computer breaks both installations.
Using your Microsoft account, log in to the administration page:
https://portal.office.com/account
Enter your username in the long format username@metropolia.fi (your username, not email address).
Click on Next and you will be redirected to the Metropolia server.
Enter your password under the pre-filled username@metropolia.fi field and click on Sign In.
After signing in you will see your Microsoft account's administration page.
Choose "Apps & devices" from the list on the left side.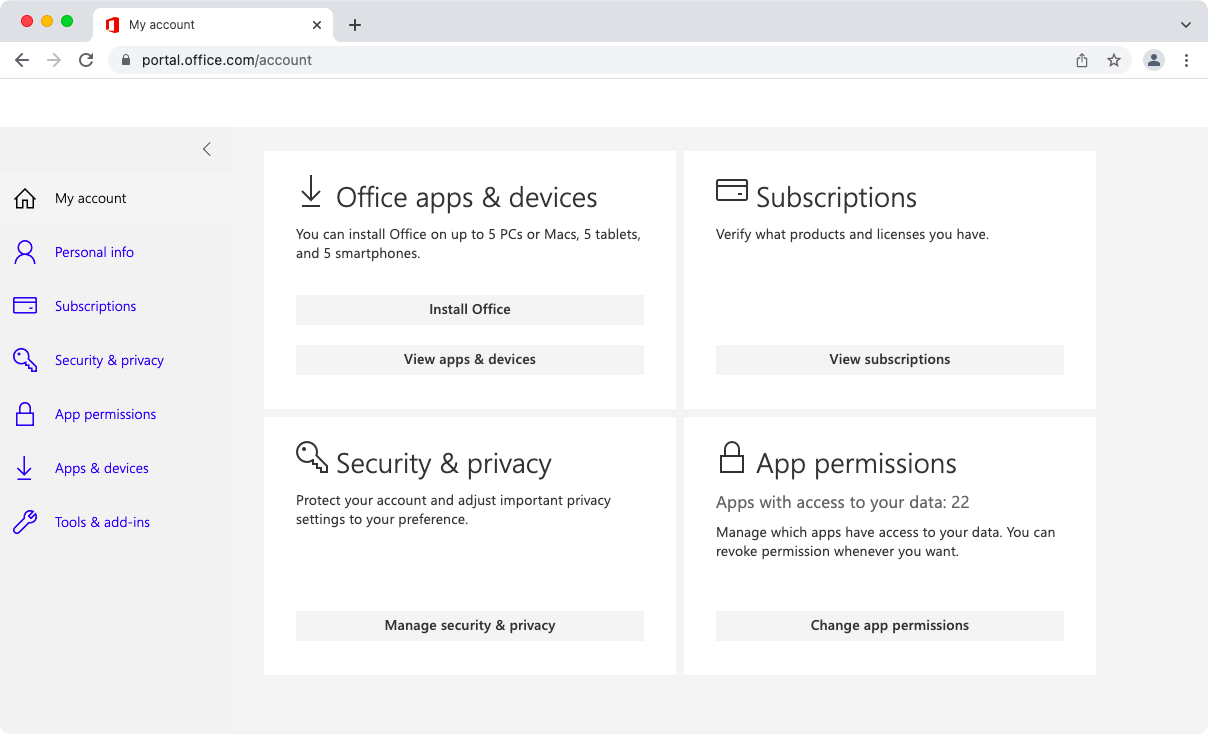 Downloading the Office installer on a Mac computer
IMPORTANT! By default, always the latest Office version will be downloaded from the Microsoft site - even if the version could not be run on your computer's operating system.
If your computer's operating system is older than what Office requires (see above), read the following:
Older Office versions for Mac (in Finnish)
Managing activated licenses
We recommend that you make sure you have free licenses (max. 5 activations) before downloading the installer.
You can check the number of licenses in the management windows View apps & devices.
If you have already activated Office on 5 devices, you will have to deactivate Office on one of them. Deactivation can be done easily by clicking on Sign Out next to the device.
Start the download by clicking on Install Office. The time required to download the installer depends on your internet connection.
In the example below downloading is started in Chrome browser which shows file downloads in the bottom left. If you use Chrome, you can start the installer by clicking on Open in the menu in the bottom of the window.
If you use another browser, look for the installer in your Downloads folder and start the installer there by double-clicking the installer.

Installing Office on a Mac computer
Start the installation by double-clicking on the installation button and click on Continue.
Accept the terms and conditions and click on Continue. Enter the administrator's user name and password. Next, click on Install Software.
When the installation has finished, click on Close.
Activating Office on a Mac computer
After the successful installation, find the Word program on the computer. The easiest way to find a program is by using the search function which can be found on the right in the top bar, next to the magnifier icon.
When you have found Word, start it.
Click on Sign in.
Enter your Metropolia username and click on Next.
Metropolia activation page appears. Enter your password in the password field and click on Sign In.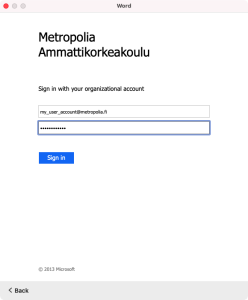 Wait while Office is being activated.
Office activation and setup is now done. Click on Start Using Word.
Officen asennus Mac-tietokoneelle
#trackbackRdf ($trackbackUtils.getContentIdentifier($page) $page.title $trackbackUtils.getPingUrl($page))
You must log in to comment.