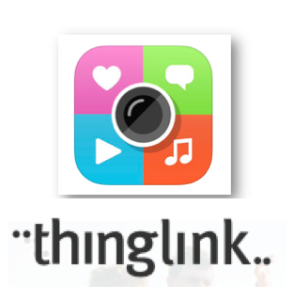 Image Modified
...
Suomalais-yhdysvaltalainen Thinglink on sovellus, jossa taustakuvaan pystytään linkittämään kuvia, videoita ja linkkejä. Ohjelma on avattu vuonna 2010.
Thinglinkin Free Teacher -versio muuttui maksulliseksi 15. joulukuuta 2017.
In English
Finnish-American Thinglink is an application where you can annotate background images with photos, videos and links.  The software was released in 2010. 
The Free Teacher version became a paid service on December 15, 2017. 
Osoite - Address
Kirjallisuutta - Literature
Yhteisöjä
Videoita - Videos
Käyttökohteita - Targets of use
ideariihi - brainstorming

ryhmätyö - group work

havainnollistaminen - illustration

mainoskampanja - advertising campaign

interkatiiviset kuvat ja videot - interactive photos and videos

kyselyt - quizzes
Käyttökokemuksia
...
...
Kirjautuminen - Logging In
...
---
For the first time:
1 thinglink.com 
2 Log in with third party services
3 Log in with Microsoft
...