Trello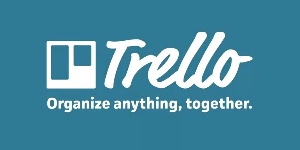 Trello on vuonna 2011 julkaistu selainpohjainen projektinhallintajärjestelmä. Yksinkertaisuudestaan huolimatta tai kenties sen ansiosta se on käytössä muun muassa sellaisissa organisaatioissa kuin The Verge ja The New York Times. 
Palvelu koostuu tauluista (board), jotka sisältävät luetteloita (lists). Luettelot vastaavat projektin tehtävälistoja. Ne taas jakautuvat korteiksi (cards), jotka vastaavat tehtäviä. Kortteihin voi kytkeä liitetiedostoja, äänestyksiä, tavoitepäivämääriä ja tarkistusluetteloita. Kortteja siirretään paikasta toiseen vetämällä. Projektin edetessä kortit voivat kehittyä luetteloiksi, jotka kuvaavat prosessia, jossa esimerkiksi idea muuttuu toteutukseksi.
Trellon perusversio on käyttäjälle ilmainen. Järjestelmän maksullinen Business Class -painos avattiin vuonna 2013. 
Trellon mobiiliversio on saatavana iOS- ja Android-laitteille. 
Muun muassa Confluence-wikistään tunnettu Atlassian-yhtiö osti Trellon tammikuun alussa 2017. 
Microsoftin Teamsin ja Plannerin yhdistelmä tarjoaa samoja ominaisuuksia kuin Slack.  Lisäksi Google Keepillä pystyy laatimaan tehtävälistoja, jotka on merkitty korteiksi. 
Osoite - Address
Kirjallisuutta - Literature
Videoita - Videos
Käyttökohteita
projektinhallinta - project management
Käyttökokemuksia - User experiences
Käyttöehdot - Terms of Service
Maksullinen versio
Käyttäjän on luotava palvelussa oma tunnus itselleen.
Käyttäjä vastaa itse tietoturvasta ja käyttäjätuesta.  
Ilmaisversio
Ilmaisversion käyttö Metropolian töihin on Metropolian johtoryhmän päätöksellä kielletty 1.9.2019 alkaen. 
---
Paid version
User has to create an own account in the service.
The user is liable for the information security and user support by himself or herself.  
Free version
Use of the free version for Metropolia works is prohibited by the decision of the Metropolia management as of September 1, 2019.
Skip to end of metadata
Go to start of metadata
You must log in to comment.