Skype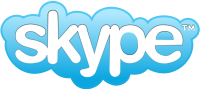 Skype on alun perin virolais-ruotsalainen verkkopuhelusovellus, jonka Microsoft osti vuonna 2011.
Skypen käyttäjät pystyvät keskustelemaan maksutta keskenään verkon kautta ja soittamaan maksusta yleisen puhelinverkon laitteisiin.  Sovellus tukee myös konferenssipuheluja eli monen käyttäjän samanaikaista keskustelua.
Skypen pikaviestipalvelu Skype for Business (henkilökunnalle, opiskelijoille) on suunnattu yrityksille ja muille organisaatioille. Se toimii Microsoftin palvelinohjelmistossa ja pilvessä.
Osoite
Kirjallisuutta
Videoita
Skip to end of metadata
Go to start of metadata
#trackbackRdf ($trackbackUtils.getContentIdentifier($page) $page.title $trackbackUtils.getPingUrl($page))
You must log in to comment.